One more roster rebuild and they're in!
We'll never forget Torie Snelgrove
Don't Ever Forget
What Happened to Torie
Victoria 'Torie' Snelgrove (right - in the Boston Red Sox hat) and her friend Kaitlyn Sachetta (left) in a photo taken the night that Torie died. (Patrick T. Jones DVD Image)
Boston Settles with Family of Slain College Student
O'Toole to Retire, But Not the Commissioner
Outlaw 'Students' Still Need to be Punished
And Torie's Shooter Brought to Justice
"I guess the best way to describe it is I feel like I'm in hell. It's so difficult to get up in the morning and know she's not going to be here." -- Dianne Snelgrove, Torie's mother
Video Clip Recorded Fatal Fenway Shooting
"Milien fired two shots from a pepper-pellet gun that was tucked into his shoulder, aimed at head level. Then voices on the video clip called out, "They hit her in the eye" and ''You [expletive] killed her," as the camera panned toward the sidewalk, where a man in the crowd signaled for help... ''I didn't know what he would be shooting at and I was trying to figure it out," the student said. ''No one was around."

"The video shows that only police were in close proximity to Milien. When the camera pans to the sidewalk, the crowds appear relatively calm, except for those near Snelgrove, calling for help... Chris Borgesani, a freelance cameraman who was nearby, also said the violence had cooled significantly by the time of the shooting." -- 11.13.04 Boston Globe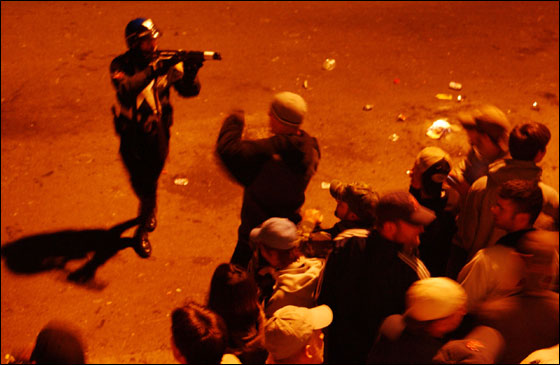 An unidentified police officer holding a pellet gun on Lansdowne Street the night of Victoria Snelgrove's death. (AP File Photo)
When You Fail to Plan, You Plan to Fail
A Simple Plan of Lining Lansdowne Street Before the Bars Let Out Would Have Prevented the Mob Scene... and the Shootings
"First off, I was the Yankee Fan you had on the Sports Final panel after the A-Rod Trade... I just wanted to offer my props, and congrats for an amazing, phenominal comeback. Your American League Championship was certanly well deserved, and I have nothing but respect for what you guys did.

Listening to WFAN, and dillusional Yankee fans who couldn't see this coming, say after miracle comebacks in Game's 4, and 5... and those who had no respect for this club... I almost found it downright hilarious. Of course, being in Boston the past few years, and watching this Red Sox team... There was no doubt on how good they were. Though I was surprised to see them dig themselves that large of a hole in the first few games.

Please... just win the damn thing... There was nothing more pathetic, or embarrassing as a Yankee fan than to hear the "Who's Your Daddy" and "Nineteen-Eighteen" chants while losing 8-1... Of course, the game ended so early, where the majority of them were plastered to the point where they didn't know the score period.

However, as an Emerson student the news of Victoria Snelgrove's death was a complete shock. The community here is devastated by the news, and classes were canceled Friday as a result. Though personally, the shock comes with the Boston Police Department's handling of the situation. It's not that now we are finally hearing word that they were eventually responsible. But when you #$%! up for the third time now in handling crowd control in a situation like this, heads must roll, and serious action must be taken.

Should the Red Sox win the World Series, which I fully expect them to... how will the Boston Police handle the situation? This won't be 80,000 College Students anymore, (Perhaps 250,000+) and there wasn't enough cops to keep the crowd in line last night. It concerns me, and the Emerson community that another situation like ours is envitable without serious action, by both the City of Boston and the Boston Police Department.

During these games, we must understand that it is impossible to keep alcohol away from the Colleges. Underage drinking might be a serious problem in these riots, but many of the people out there last night were legally able to drink. And it's completely unfair to buisnesses like Jillians, and the Cask to shut off sales during the Games, because personally I don't see them as the problem. The people who work there know when to shut off somebody when they see it.

I don't know what Mayor Menino has in store... But it has to be drastic... It has to be swift... It almost has to be something to the extent of a curfew, alcohol ban, or ordering a Police State.....Otherwise, in a week in a half there will be a far more serious situation to worry about. Involving a far greater loss of life, because the City, and the Police refuse to take serious action to prevent this." -- 10.21.04 Jake Duhaime, Emerson College
"I live in the Fenway, right on Boylston St. I am outraged not only at the idiot drunk students but also at the poor management by the police officers and riot squads. Apparently, a lot of cops were in the Kenmore area; I have no evidence to say whether they were properly prepared or aligned there or not. What I can say is after every Red Sox victory; crowds of students (I am guessing Northeastern down Hemenway St. and Huntington Ave.) came down Boylston St. and went to Fenway. Every night they got rowdier and rowdier, as the one unmarked cop car on Boylston, watched. The night of Game 7: only the same unmarked cop car until after the game was over. All of these police officers were already at Fenway and in Kenmore. Well, there were plenty of problems on Boylston. Cars were destroyed as the "students" ran through to Fenway. A lof of the Fox footage of the fighting was on Boylston St. Do they not consider this area part of Fenway? A man on a bike eith er got clipped by a car or was drunk out of his mind, I couldn't tell from my steps. It took six police cars and officers to take care of this guy and then an ambulance came. The officers just stood around for a while. All this in the first half hour after the game. Six cops! One guy on a bike who was stumbling around! The riot squad then went along the residences and yelled at everyone to go inside. I am not sure if they realized people (fans) smoking cigarettes on their steps after the best baseball we have ever seen is not a threat. Again, meanwhile, the "fans" were burning cars. Everything I witnessed was a lot of drunken students who should not be allowed to leave their campuses anymore (they lost all their Fenway privileges) and a poor job by the police in containing. If this was the same alignment as the DNC, I am very grateful nothing happened." -- 10.22.04 D.T.