One more roster rebuild and they're in!
February 20, 2009 | 03:26 PM
A-Roidgate Rages On
(A-Rod, AP Angel Presinal, Los Angeles Times/Carlos Chavez Yuri Sucart
Daily News
/Schwartz)
The Alex Rodriguez Story Is Falling A-part
Amateur Hour... Courtesy of The Professional
NY Daily News: Steroid-Linked Trainer Accompanied A-Rod for 2007 Season
ESPN: Presinal Had Strong Ties to A-Rod; Rodriguez Could Face Suspension
ESPN 2007 Archive: Presinal's Past Makes MLB Wary About His Present
ESPN: Primobolan Not Legally Available in Dominican Republic Like A-Roid Said
Danny Picard: Congressman Lynch Says Don't Rule out A-Rod Hearing | Audio
Just Another Day, Another Round of New Questions for The Ultimate Cheater
... Who Spoke Briefly Today
New York Daily News and we're still counting how many reporters: "Embattled Yankee Alex Rodriguez has had a long relationship with a steroid-linked trainer who's been banned from major league clubhouses, four independent sources told the Daily News.

Angel Presinal, who was banned from private areas of every MLB ballpark after an October 2001 incident involving an unmarked gym bag full of steroids, has been tight with the Yankee slugger dating back to his time with the Texas Rangers, several sources said.

A former New York-area scout says Presinal, whose named surfaced in the Mitchell Report, was with Rodriguez in New York and Miami as recently as this past fall.

MLB has warned players to stay away from him.

He has been thrown out of clubhouses in Cleveland, Anaheim and Texas.

"He's an unsavory character," said a source.
Who's Your Trainer?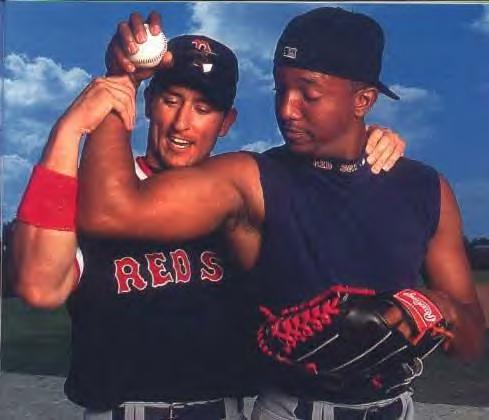 2.14.07, ESPN, Mike Fish: Angel Presinal: "Boston wanted to do surgery on Pedro Martinez [during the 2001 season]. Pedro says, 'I don't need surgery. I want to first try with my personal trainer.' He came to me at the end of the season and I worked with him. He had no operation and he came back and challenged Barry Zito for the Cy Young."
And David Not Only Works Out at His Place, He Was a Client...
"The walls of his [Presinal] cramped office in the bowels of the basketball arena are lined with photos of Presinal and some of the top-shelf players he professes to have trained: David Ortiz, Alex Rodriguez, Orlando (El Duque) Hernandez, Raul Mondesi, Pedro and Ramon Martinez, Stan Javier, Adrian Beltre, Ruben Sierra, Vladimir Guerrero." -- 2.14.07, Mike Fish, ESPN.com
Hey, Nao! He's No Angel
(Victor Perez / ESPN)
This Just In ...
(BDD / Comcast SportsNet Screen Image)